INTERNATIONAL OPERATIONS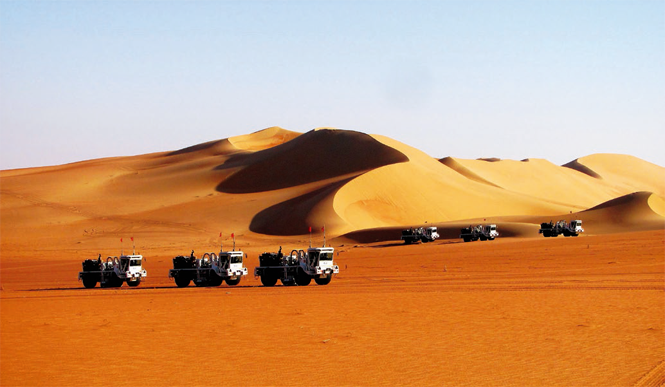 In 2017, faced with the unpredictable global environment and severe security issues, to fulfill the strategic target of "building a world-leading energy and chemical company", Sinopec leveraged our advantages of group management and industrial integration, developed overseas oil & gas E&P businesses actively and steadily.
We optimized decision making, strengthened HSSE risk control, increased cash flow, yielded new fruits in E&P, improved our profitability with present capitals, and saw a steady growth in our total businesses. Throughout the year, we made 13 discoveries in Apache project, Egypt, and achieved progress in 3 projects and 2 breakthroughs in Canada and Australia, with a 76% successful rate of well exploration and an addition of 2P+2C reserve of 8.51 million tonnes of oil equivalent. Angola 15/06 eastern region project was put into production 2 months ahead of schedule. Our equity production of the whole year stood at 43.72 million tonnes of oil equivalent. We effectively cut costs and enhanced efficiency, as we cut 35.7% of investment. By the end of 2017, Sinopec had owned 50 oil and gas E&P projects in 26 countries.

Against the backdrop of continued fluctuation of international oil price at low levels, intense competition was seen in the global oilfield service market, and mounting pressure lied in improved management. We made flexible adjustments in our strategies, raised the quality and profitability of our projects, and strived to tackle the difficulties hindering our survival. By the end of 2017, we had executed 845 projects in over 40 countries, and overall contracts valued USD21.82 billion. In 2017, the newly signed contract value was USD2.41 billion and the completed contract value was USD2.17 billion.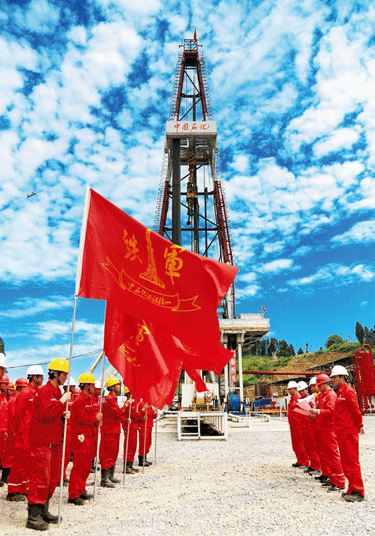 We developed overseas refining & chemical JV investment in an active and steady manner. Some of the overseas refining & chemical projects were under smooth operation including YASREF in Saudi Arabia, the joint-stock Sibur Project, Fujairah Oil Terminal Project in UAE, Krasnoyarskiy NBR project in Russia, the Lubricants Plant in Singapore and VESTA Storage Project in Holland. We paid special efforts in boosting the acquisition of oil refining and sales business in South Africa and Botswana and signing equity purchasing agreement, waiting for approvals issued by local governments. The preliminary work of the natural gas chemical project of Amurskaya Oblast and methanol-MTO project in Russia, and synthetic rubber project of Saudi Arabia has been advanced as planned. By the end of 2017, Sinopec had 6 refining & chemical, storage and logistics projects in 7 countries.
In 2017, we executed 71 overseas contracts (50 projects) of refinery engineering in 13 countries, with the total contract amount of USD10.77 billion. The value for newly signed overseas contracts reached USD1.53 billion and that for completed contracts was USD2.13 billion. Together with TECNIMONT, we were awarded the AGPP project of Amurskaya Oblast, the first refining & chemicals EPC contracting project fin Russia. We completed the following projects including the PP EPC contracting project of IRPC Company in Thailand, sulfur and polyformaldehyde (POM) in Saudi Arabia. In 2017, 18,688 people executed overseas project on average per month, including 1,283 Sinopec employees, 7,923 domestic employees and subcontractor staff and 9,482 foreign employees and subcontractor staff. In 2017, we attained 58.2344 million safe hours accumulatively.
We implemented scientific crude procurement through reinforcing market analysis, grasping favorable opportunities and purchase windows. We reduced procurement cost while securing the company's operation and stable resource supplies. Total annual crude import reached 210 million tonnes, increased by 3.84 million tonnes; the third party crude trade amounted to 154 million tonnes, up by 11.68 million tonnes. Taking into consideration of domestic oil products market condition and leveraging the advantages of domestic and international resources and markets, we also increased export of oil products by 820 thousand tonnes to 20 million tonnes in 2017.
In 2017, LNG import reached 5.61 million tonnes, equivalent to 7.9 billion m3, up by 3.2 billion m3 or 68%.
We comprehensively strengthened risk control, gave full play to overseas subsidiaries and further improved the capacity to secure supply and to export products. Due to the global economic recovery, improvement of world economic environment and optimization of China's economic structure, the realized annual international trade volume for petrochemical products, equipment and materials reached USD2.72 billion, up by 77.68%. Realized coal import and third country trade was USD398 million. We enhanced the development of overseas end market and end user for chemical products, leveraged the advantage of the integrated domestic and foreign trade, and promoted international trade with concrete steps. The annual total import, export and third party trade volume amounted to 11.3 million tonnes, up by 24%. Our catalyst business continued to expand its influence in overseas with more variety and sales volume. Annual export of catalysts grew by 4.2%. With more efforts in overseas platform construction, global operation capacity of fuel oil business has been further enhanced. The realized annual overseas business volume was 14.67 million tonnes, grew by 26.8%.