Natural Gas
In 2017, we sold 34 billion m3 of natural gas, up by 27.9% and of which, self-produced natural gas was 25.74 billion m3.
Significant effect was shown in market expansion.In North China, we arranged resources in gas or liquid phase according to specific situation. We provided pipeline transmission services and reliable supply proposals to strengthen our traditional user base and expand new markets. In markets covered by Sichuan to East China Gas Project, we adopted region-specific targeted marketing, ensuring win-win with customers and improving profit. In South China, we optimized LNG flow to maximize profit with limited resources. We accelerated our pace of entering the end user markets by building pipelines and LNG receiving facilities for direct supply to some town gas operators and our own subsidiaries. We initiated the three-tier emergency response scheme, coordinated with upstream segment to boost production, enlarged export efforts and accumulatively increased volume for the heating period by more than 260 million m3. We ensured gas supply for civil use and spared no efforts to secure the market supply.
Pipelines ran with security and stability.We strengthened pipeline operation monitoring and analysis, conducted transmission capacity evaluation and process parameter optimization, regularly tested measurement meters and instruments, strictly controlled transmission error, meticulously prepared for operation and ensured the successful operation of pioneering projects such as the Wen 23 Gas Storage. Special contractor management program was conducted to assign responsibilities. Carbon auditing and pollution source identification were implemented to raise our ability of environmental risks evaluation, management and control.Long-term screening mechanism for geological disaster was set up to form a rolling prevention and treatment mode combining "prevention before flooding, review during the flooding and screening after the flooding". We strengthened the joint prevention system to further optimize our emergence response program and properly handled the "10·11" landslide incident of Sichuan to East China Gas Pipeline.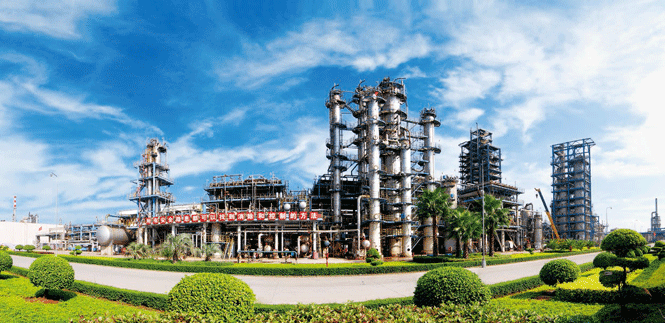 Oil and Non-oil Products
In 2017, total sales of oil products reached 199 million tonnes, including domestic sales of 178 million tonnes, up by 2.9%. The retail volume was 122 million tonnes. With a focus on integrating fuel and non-fuel business, for the whole year, non-oil products transaction volume reached 51.95 billion yuan, up by 48%.
Oil products marketing and service.With our integrated business model, market-oriented and customer-centered approach, we carried out differentiated marketing strategies for different market segments and realized growth in both volume and profit in oil products sales. We proactively responded to market rebalancing, advanced the coordination between production and marketing, made timely feedback to market dynamics, adjusted resource allocation according to consumption scenario change, reasonably controlled resource distribution, made fair use of external purchase, developed sound purchasing and selling strategies for maximum output of resources. We substantially improved the comprehensive services with multiple marketing tactics. In diesel marketing, we realized the dual goals of issuing more than 1 million co-branded diesel cards and selling more than 1 million tonnes of products via cards, and conducted collaborative marketing of "One Card for Nationwide Benefits". Through great efforts on developing gasoline direct sales and distribution customers, utilizing our advantages in collective purchasing, cost and quality control and brand value, and dealing with joint and independent service stations, the proportion of gasoline direct sales and distribution made a significant increase. Our logistic cost and extras were lowered dramatically through the separation of oil products physical flow and value flow and full process logistic optimization.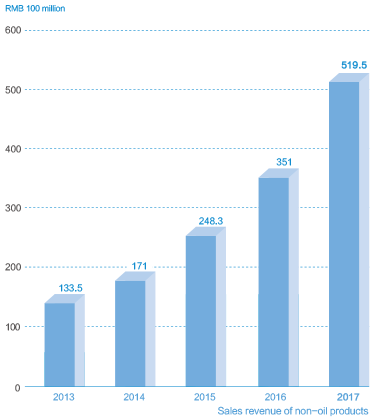 Non-oil products marketing and service.For 2017, the growth rate of non-fuel business transaction volume hit a new high since year 2011. We pushed forward the development and marketing of self-branded products and issued new product lines such as Changbaishan Spring and cigarettes exclusively for Easy Joy convenience stores. With a focus on key products such as tail gas treatment liquid, Zhuoma Spring, Oulu tissue, Laimao liquor, we integrated further fuel and non-fuel businesses, resulting in not only the effective expansion of non-oil products sales scale, but also strong support for oil products marketing. Cross-boundary cooperation and cross marketing enabled us to effectively develop vehicle services, advertisement, insurance and in-shop services to better our comprehensive service capability and ability in value creation. Equipped with Internet-oriented approach and Big Data technology, we developed and tested CRM system and applications, initiated ahead of schedule 95388 customer service call center, formulated management scheme of membership card points tally, improved online and offline customer experiences and realized drastic increase in the number of Wechat followers, registered members and members who linked their bank cards to Wechat accounts.
Marketing network construction.We adopted flexible development modes combining long-term ownership and asset-light strategy, and accelerated the construction of service stations network. Meanwhile, with coordinated renovation to boost volume, hazard rectification, environmental protection and new business development, we completed double wall tanks, double-layered pipelines and renovation for more than 2,000 service stations. By the end of 2017, there were over 30,600 Sinopec self-operated service stations. In storage and transportation facilities, we tapped potential of existing ones, built and optimized new ones, successfully put Hainan and Sichuan-Chonqing pipelines into operation, implemented de-bottlenecking projects, and optimized capacity of gasoline and diesel tanks. Accelerated construction of tail gas treatment fluid plants and bulk refilling facilities guaranteed the satisfaction of incremental demand. In "2+26" (Beijing, Tianjin and other 26 cities in North China) cities, we strictly implemented the energy conservation and environmental protection policies, realized full coverage of installing recycle facilities in all service stations, further utilized level gauge system and achieved significant results on various fronts. We also actively explored partnership with power companies including the State Grid and China Southern Power Grid to put a response plan in advance against challenges posed by alternative energy development.
Fuel Oil
In 2017, total sales volume of fuel oil was 22.17 million tonnes, up by 16%.
Domestic market.We advanced professional management. For 2017, we realized remarkable profit from 580 thousand tonnes of internal resources, hit a historical high profit out of self-blending resources and sold 1.2 million tonnes of bunker oil, up by 11%. Total sales volume in domestic market reached 2.76 million tonnes. We provided 250 thousand tonnes of feedstock to Sinopec refineries. Our business channel expansion had a better foundation as we became a registered customer of Saudi Aramco's LPG product.
Bonded business.Resource cost was effectively controlled through "diversified sources and regular blending". With strengthened customer development and maintenance, proportion of end-user sales reached 48% and traded resource reached 500 thousand tonnes with effective increase in spread per tonne of crude. Continued logistic optimization enabled constant decrease of cost per tonne. We meticulously mitigated risks by combining physical and paper trade. We actively participated in the construction of free trade zones in coastal areas and forged partnership with local governments of Zhoushan and Dalian in terms of shipping centers and commodity trading centers. For 2017, sales volume of bonded business was 4.03 million tonnes, up by 38% with significant increase in profitability. Our market share was 33%, up by 2 percentage points.
Other Refined Products
Sales volume of other refined products surged by 9% to a new record, maintaining our leading position in market share in China. The growth in average sales price of LPG, asphalt, petroleum coke and sulfur outperformed those of the 3 major benchmark crudes by 13 percentage points, and the profitability of our products was enhanced. We sped up the development of new products and realized the scaled production, marketing and application of Chunfeng Tahe road asphalt.
Lubricating oil business was actively aligned to serve national development strategy. We continuously pushed forward our partnership with high-end manufacturing enterprises and the army, and completed stable production of 32 products as military supplies. We completed test run of 600 thousand kilometers for bullet trains at a speed of 350 kilometers per hour and a speed of 250 kilometers per hour. Some grades of lubricants were applied on the China-standard Fuxing bullet train. We obtained first orders from multiple overseas Chinese projects and realized 35% growth of overseas sales volume among Chinese enterprises. We won a global bid from Mercedes-Benz and was authorized as its exclusive supplier of service fill lubricant in India and Indonesia. Our global market sales volume increased by 22%.
Chemicals
In 2017, sales volume of chemicals was 78.50 million tonnes, up by 14.2%, of which trading was over 29.94 million tonnes .
Focusing on the chemical value chain.With a focus on the industrial chain development at home and abroad, we dug into segmented markets, organized front sales persons to investigate thoroughly the markets, optimized supply-end and demand-end database to lay a solid foundation for industrial chain research and market predictions.
Marked effect in MRPC.We fully tapped our advantages in Marketing, Production, Research and Consumption (MRPC) and took customer needs as the baton for production and R&D. Important breakthroughs were made in terms of self-produced new products (specialty) marketing and replacing import of the three major synthetic materials with self-produced ones, and made due contribution to advancing the structural adjustment of domestic chemicals and enlarging our chemicals competitiveness.
Simultaneous enhancement in both marketing and service.We formulated a marketing strategy that differentiated products by product codes to have a more refined marketing approach. We established strategic partnership with major clients as an effort of conducting full-dimensional and multi-layered communication and cooperation with important clients. We developed and applied a made-to-measure information system that gave different proposals for different customers, optimized our customer demand response mechanism and enhanced our ability of providing tailormade services. We made further use of the 95388 customer support call service, comprehensively applied tools including Wechat and IT applications to advance our comprehensive service level.
Innovation in chemicals marketing channel.We adhered to the approach that "innovation is the foremost engine for growth", sped up new business development, actively explored new modes and new operations and boosted platform economy. Building upon our experience with the "Chememall" e-commerce platform, we initiated its second phase upgrading, made full use of cutting-edge information technologies, explored high-efficiency trade, convenient payment, smart logistics and intelligent services, pushed forward deep integration through the entire industrial chain, enhanced the brand impact of "Chememall" and thus accelerated our transformation from traditional marketing business to platform economy.