Continuing rural revitalization and supporting common prosperity
General Secretary Xi Jinping once said: "The prerequisite for rural revitalization is to consolidate the results of poverty eradication, and we should further our effort so that the people who have escaped from poverty can have better living standards. After the victory of poverty eradication, we cannot leave it be. We should adapt to the rural revitalization strategy organically, increase the tilted support to the key counties identified during rural revitalization, and urgently improve and implement the monitoring and support mechanism to ensure that the return of large scale poverty won't occur."
Sinopec has studied and achieved a deep understanding of the important remarks of General Secretary Xi Jinping on rural revitalization, and conscientiously implemented the decisions and deployment of the Party Central Committee and the State Council. We will improve the political stance, strengthen the organization and leadership; increase investment; find innovative ways and methods; participate and take the lead in the assistance projects at a high level, so the goals of rural revitalization could be achieved.
Releasing the assistance plan and connecting the strategy with rural reality
In March 2021, Sinopec took the lead in releasing the "14th Five-Year Plan for Rural Revitalization". We promised that during the 14th Five-Year Plan period, we will achieve "two not less and three not reduce". Sinopec will sell not less than 4 billion yuan of products from the poverty alleviation project and not less than 800 million yuan worth of products each year, besides not reducing our efforts, manpower, and funds to support further development in poverty alleviation. This will be specially for the key poverty reduction counties in western regions that are under harsh natural environment; poor basic conditions; and facing difficulties in consolidating the results of poverty eradication and implementing the rural revitalization strategy. In the process of promotion, we will combine the company's ability and local needs, and explore the mode of assisting rural revitalization with the characteristics of central enterprises. We will strive to ensure that our efforts of rural revitalization are more in line with the development needs; more in touch with the agricultural and rural needs; and more in accordance with the expectations of farmers.
Supporting the "one county, one chain" to create a characteristic industry
Based on the resources of the eight targeted support counties, Sinopec helps each county to build a high-quality agricultural industry chain with a certain scale; cultivates a number of products with market competitiveness; and enhances the specialization, scale, integration and intensification of the rural industries.
Develop characteristic industries
The "One county, one chain" industry direction is clearly defined for quinoa produced in Dongxiang County; gray dates in Yopurga County "Sunshine Bazaar"; tea in Yuexi County; and roasted duck eggs in Yingxiang County, ponkan in Luxi County, kiwi in Fenghuang County, yak meat products Baingoin County and agricultural and livestock products in Zeku County, while Dongxiang quinoa and Yuexi Turquoise Blue tea are taken as the "One county, one chain" demonstration projects, which are promoted to facilitate local economic development.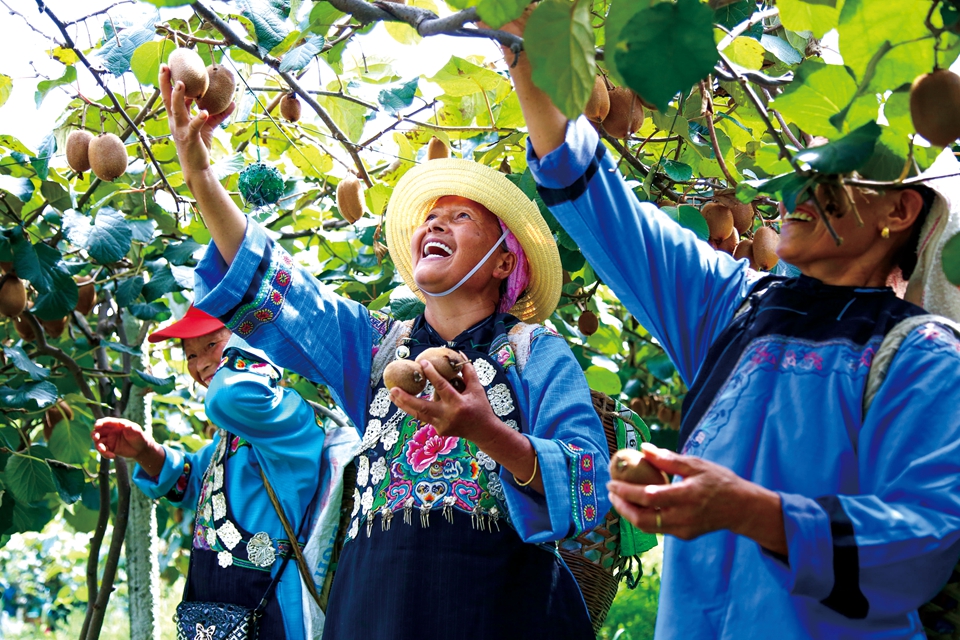 Promote branding
Actively liaise with branding agencies inside and outside the company, and join efforts in seeking the roots and pulse for specialties under "One county, one chain". Implement a branding plan for "Yuexi Turquoise Blue"; build a visual system, create the concept system and visual system for the Yuexi regional brand; produce a regional branding film, and promote the sustainable and healthy development of the tea industry as well as cultural tourism.
Coordinating the input of resources to improve the quality of educational support
Sinopec insists on "nurturing people for the Party and nurturing talents for the country". With "a high-quality school at the doorstep of farmers'" as the main line; and following methods such as overall planning, systematic promotion and comprehensive efforts, we work to improve both hardware and software, as well as to support the campus, teachers, and students. Sinopec strives to explore a three-dimensional and collectivized "corporate+ university" support system. In 2021, we trained 11,000 teachers, paired up more than 2,800 students, and benefited nearly 20,000 in-school teachers and students.
Formulated a special program for education
A special five-year plan was drawn up to support education. And Sinopec selected 37 schools out of 246 donated schools and paired them with affiliated companies so that they could receive targeted support.
Accelerated hardware renovation
The 37 schools have completed the first round of hardware renovation. And there was an emphasis on toilets, accommodation, classrooms, and other "urgent, difficult, worrying and long-awaited" problems. Sinopec is committed to running good quality schools at the doorstep of farmers.
Increased investment in educational "soft power"
Sinopec brought in renowned universities, utilized educational resources from the eastern region, and organized a "Rural Education Principals' Forum" to improve the management ability of educators and the quality of teaching in the supported areas.
Many measures were adopted to take care of the students
114 companies donated a total of 130,000 books to Dongxiang County Petrochemical Middle School and other schools and tailored 579 students' winter uniforms.
Widening distribution channels and leveraging various ways to support the industry
Sinopec has taken advantage of its strengths to innovate its work model and improve the effect of its support by focusing on new ideas of consumption assistance.
Optimize the construction of distribution channels
Relying on 28,000 Easy Joy convenience stores; the staff group purchase network; refueling Sinopec; and other online and offline retail channels, the company has increased the promotion of agricultural specialties in the supported areas, encouraged affiliated companies to purchase "One county, one chain" specialties; and organized 108 directly affiliated companies to participate in poverty relief projects through consumption. In 2021, the company helped sell 631 million yuan of poverty relief goods and helped purchase 409 million yuan worth of poverty relief goods.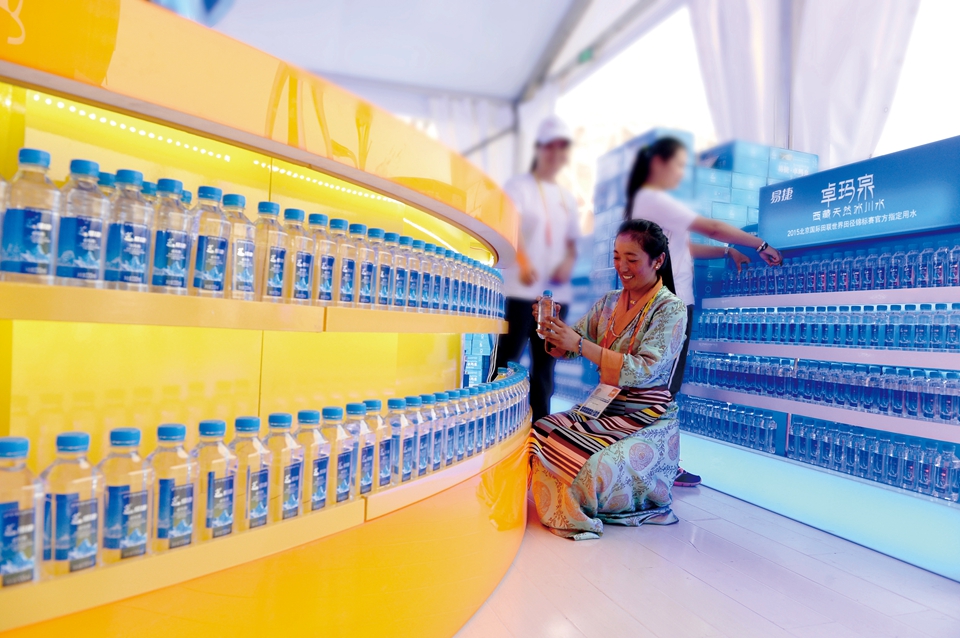 Improve the quality of consumption support
Shifting from highlighting "amount" to highlighting "key areas and industries", the company supports targeted areas to build a regional brand to better serve the "One county, one chain" distribution system and help the value chain of agricultural products move towards the high-end. At present, 1,710 products from 23 provinces, 146 poverty-alleviated counties are included in the Sinopec Consumption Supported Products Catalogue.
Implement technical training and give full play to the advantages of talents
Sinopec has made practical efforts to train talents in the supported areas; effectively pooling the synergy of talent revitalization and activating the endogenous power of local rural revitalization. Sinopec has allocated 1.2 million yuan for the training of talents in the six designated support counties; ensuring that the full amount is available and dedicated. With the "one county, one chain" concept of industry; and to meet the application-oriented talent training needs of leaders of ethnic minority industries, training institutions at all levels within the system were mobilized to match teachers and develop courses. More than 100 CD-ROMs of lectures on farming, agriculture and forestry, animal husbandry, etc. have been produced. Also, Sinopec conducted special training courses for management of rural revitalization to interpret policies and analyze key points; and further improve the professional proficiency of rural revitalization cadres. By 2021, 8,523 rural grassroots cadres; 25,059 technicians; and 3,942 rural revitalization leaders were trained.