Join hands to build a better Hong Kong based on the Belt and Road Initiative
Hong Kong, located in the center of Asia, has the advantage of being backed by the Chinese mainland. Also, it is one of the world's most developed economies and the world's largest offshore RMB business center. Hong Kong is of great importance and plays an irreplaceable role in implementing the BRI and promoting the reform and opening-up of China.
Since the late 1980s, Sinopec has been determined to "integrate into Hong Kong and serve Hong Kong". So, it has built a functional platform for the joint construction of the "Belt and Road"; explored the Hong Kong market by leveraging Hong Kong's geographical advantages and economic status; and served Hong Kong's economic development; boosted livelihoods and supported undertakings for the public good. In the process, it has grown and made progress together with Hong Kong.
Diversified operations promote Hong Kong's economic prosperity
Sinopec is one of the major oil and gas suppliers in Hong Kong, and provides high-quality and sufficient energy products and services to Hong Kong residents around the clock, providing a stable supply of oil and gas energy. In keeping with its creed of high-quality development, Sinopec has developed an international trade in energy and chemical products; overseas fund management; self-operated insurance; investment and finance management and other businesses, to promote the economic and social development of Hong Kong; consolidate its status of "three centers" (centers for international trade, shipping and finance); and support the development of the country and the world in a faster and better way.
Serving people's livelihood
54 oil and gas stations and 2 oil depots in Hong Kong.
Tsing Yi Oil Depot has a storage capacity of 370,000 cubic meters, 11 berths and 34 storage tanks.
Chai Wan Oil Depot is the only oil depot on Hong Kong Island, with a storage capacity of 4,500 cubic meters.
International trade
In 2021, Sinopec Chemical Commercial Holding Company Limited (SCCHC) and Hyundai COSMO (HCP) launched mixed xylene trading, with annual transactions of 100,000 tonnes.
In 2021, Sinopec worked with its partners to export 10,000 tonne of methanol originating in the Middle East to India in response to the rising demand for methanol in India.
Overseas finance
Sinopec Insurance Limited provides insurance for Sinopec's projects in more than 20 countries and regions, shipping of over 1 billion barrels of crude oil as well as more than 20,000 dispatched employees.
SIPC Hong Kong holds 17 overseas projects; and engages in investment and financing business relying on professionals and the international financial platform of Hong Kong.
Energy supply
Since entering the Hong Kong aviation fuel market in 1999, Sinopec Hong Kong has provided aviation fuel bunkering services to more than 50 airlines.
Sinopec Hong Kong owns a fleet of bunkering vessels, providing high-quality fuel oil tanker bunkering services to well-known domestic and foreign shipping companies as well as ex-warehouse sales and wholesale of marine fuel oil for ships in Hong Kong.
The largest single oil depot in Hong Kong - Tsing Yi Oil Depot of Sinopec Hong Kong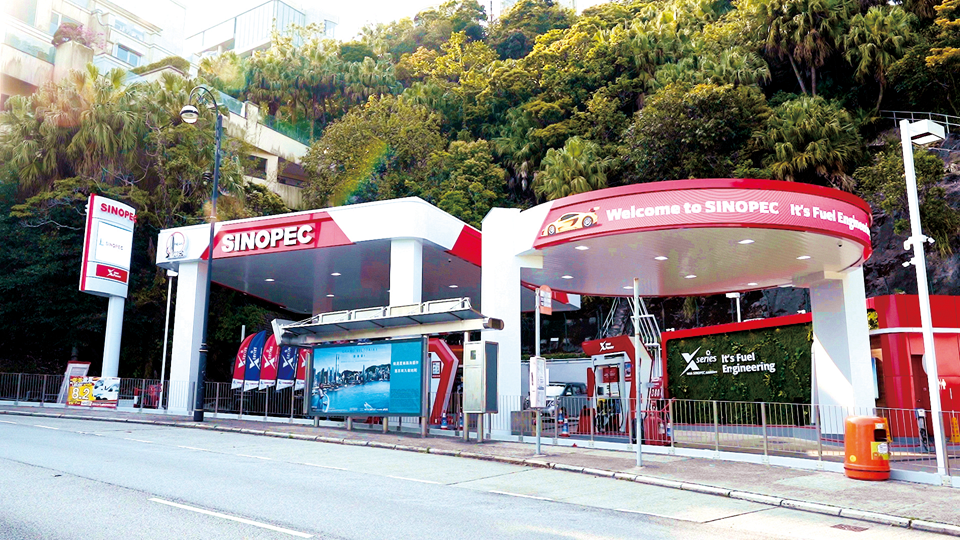 Sinopec The Peak gas station, Hong Kong
Share a beautiful life
Protect the green home
Sinopec has promoted the energy transformation in Hong Kong; innovated in, developed and promoted clean energy and green chemical products such as super gasoline and degradable plastics; implemented the Green Enterprise Campaign in depth; facilitated energy conservation and emission reduction; and promoted green and low-carbon development. It has also implemented public welfare activities for environmental protection; set up the Sinopec Charity & Hong Kong Beach and Country Park Concern Group; and organized a Coastal Cleanup for nine consecutive years. In July 2021, the event was upgraded to "Coastal Cleanup Brand Communication Action", aiming to build a beautiful Hong Kong and promote the harmonious coexistence of man and nature.
Local employment
Sinopec, which follows the concept of "repaying the local area and contributing to the prosperity of the local economy", gives priority to hiring locals, college graduates and interns in Hong Kong, attracting outstanding talents. By creating a large number of jobs, Sinopec also pushes local talents to broaden their horizons and improve their abilities. This is done by selecting Hong Kong employees to work in the Mainland, overseas work, internships, training and other measures. In this way, it has cultivated many senior talents and skilled workers; and promoted the economic development of Hong Kong. In 2020, Sinopec had a total of 1,005 employees in Hong Kong, with 89% of them being Hong Kong locals.
Strengthen pandemic prevention and control
In the face of the Covid-19 pandemic, all Sinopec enterprises in Hong Kong have worked together to fight the epidemic. They have taken the initiative to ensure the supply of oil and gas; donate materials; and ensure the supply of oil products and provide non-stop services. In 2020, Sinopec invested more than HK$4 million (RMB3,254,400) in Hong Kong's pandemic prevention and control; and donated 5 tonnes of meltblown fabric to Hong Kong to produce 5 million masks. In July 2021, to support the Hong Kong government's "Early Vaccination For All" campaign, Sinopec launched a vaccination lucky draw to encourage citizens to get vaccinated. In November 2021, Sinopec distributed 1 million KN95 masks free of charge to local residents in Hong Kong, benefiting 100,000 people.
Devoted to public welfare and philanthropy
Sinopec, which is now rooted in Hong Kong and serving the local community, has carried out community activities and volunteer services to jointly build the community with the locals. Since May 2014, Sinopec Hong Kong has raised a total of HK$1.35 million in donations; and has engaged in volunteer services. In 2020, it had 1,143 employees participating in volunteer services; with volunteer services of nearly 5,300 hours in total, promoting the community development.
Sinopec launched the "1 million of masks for free" campaign, and distributed 1 million KN95 masks for free at oil (gas) stations and the New Home Service Area in Hong Kong
Sinopec launched a children subsidy program to fund their studies and growth
Sinopec organizes volunteers to carry out a "Coastal Cleanup Brand Communication Action" to protect Hong Kong's marine ecological health