Working for comprehensive energy service station to meet customers' diverse needs
With a growing number of private cars amid the expanding new energy vehicle industry, consumer demands for gas stations are becoming increasingly diverse. With the strategic goal of "developing into a modern integrated energy service provider", Sinopec has intensified efforts to improve energy supply patterns; and enhance its cross-over transformation featuring non-oil goods and services. Sinopec, which is striving to transform from conventional, single-product services to one-stop, diversified services, is developing a comprehensive energy service station concept providing oil, gas, hydrogen, and electricity services to satisfy customer demands for higher quality, contributing to the development of a high-value business ecosystem focusing on people, cars and life services.
Extended reading:
The comprehensive energy service station is an attractive, one-stop, integrated service platform that provides services in the "3 + 3 + 4" mode, namely no fewer than three functions for both energy replenishment and basic services; and no fewer than four functions for auxiliary services.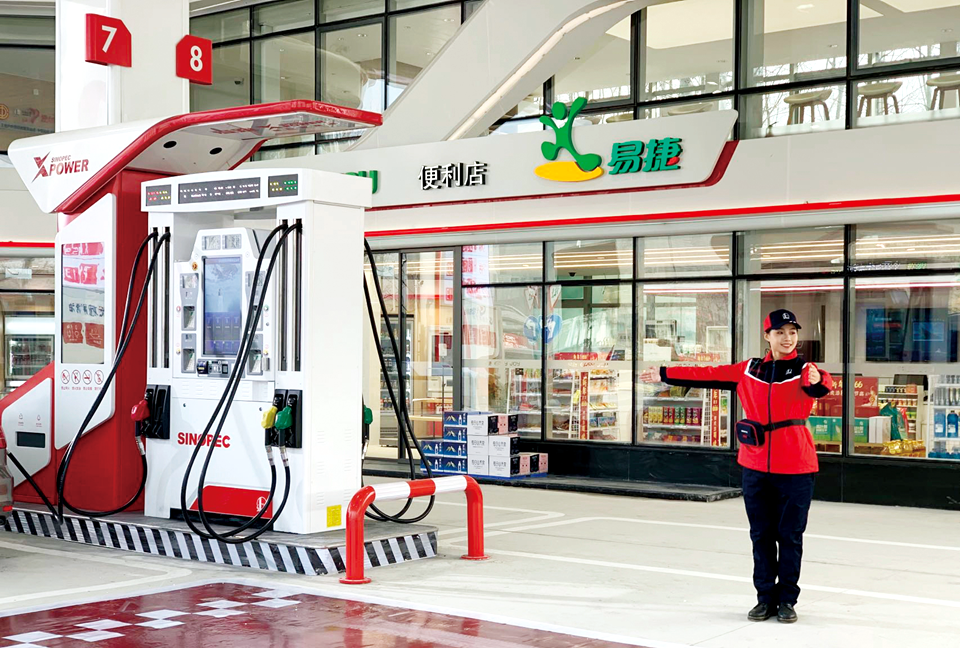 Facilitating energy replenishment
Sinopec, which has the largest and most complete oil (gas) stations and convenience store network in China, has accelerated its transformation and upgrading, and has established a comprehensive energy service network through continued improvement in service content and experience, providing customers with oil, gas, hydrogen and electricity supply as well as automobiles, restaurants, convenience stores and other services. As of March 2022, Sinopec had built 76 hydrogen fueling stations, 1,322 charging stations, 83 battery swapping stations and 1,351 distributed photovoltaic power stations.
Some of the comprehensive energy service stations built by Sinopec
Qiuling Park Oil Station in Hohhot, Inner Mongolia, Sinopec's first wind energy and photovoltaic power generation-based smart gas station, was completed in July 2021, making it an integrated operation ecosystem featuring "smart logistics platform + vehicles + charging and battery swapping + service package + operation + after-sales services".
Sinopec Nanning Guangxi Petroleum Xinyang Station, the country's first comprehensive energy station integrating oil, gas, hydrogen, electricity, photovoltaic power generation, industrial culture center and other functions, was completed and put into operation in September 2021.
Sinopec Guangdong Petroleum Dongming Road 3 Integrated Energy Service Station, the first integrated energy fueling station in the Guangdong-Hong Kong-Macao Greater Bay Area, was put into operation in November 2021, integrating multiple energy supply services such as fueling, hydrogen refilling, recharging and photovoltaic power generation.
Sinopec Guangdong Petroleum Guangzhou Jinlong Comprehensive Energy Service Station, Sinopec 's 1,000th recharging and battery swapping station and the 1,000th distributed photovoltaic power station, was put into operation in December 2021, marking the attainment of our annual goal of "double 1,000th" such stations ahead of schedule.
Convenient basic services
Sinopec offers convenience stores; automobile services; advertising; catering; coffee; Hailong Fuel Booster; exhaust gas treatment liquid refilling. In 2021, there were 28,000 Easy Jet convenience stores. A total of 8,993 automobile service outlets were developed, and 120 million car washes were done. Also, 12 new international well-known brand restaurants and 236 new regional brand restaurants were added, with a total of 62 and 1,341 outlets, respectively. Besides, 37 Easy Joy cafes were added, with 48 outlets in operation.
Anhui Wuhu Petroleum Mayinqiao Integrated Energy Smart Service Station has introduced intelligent robots in convenience stores to provide services such as reception, consultation, ushering, and ordering, as well as Easy Joy freshly ground coffee
Caring support services
Sinopec, which is committed to providing top customer services, has developed insurance and finance; retail; e-commerce and other businesses at its integrated energy service stations, allowing its consumers to benefit from more services. By the end of 2021, we had developed proprietary brand products such as Easy Joy Tibet Glacial Water; Changbaishan Spring; Oulu Paper; and Laimao Liquor to meet consumer needs. And we had established the "Easy Joy International" cross-border e-commerce platform to serve demand for global good products; launched more than 10 smart payment methods, like "one-click fueling", simplified payment and flash payment; opened up a new ecosystem of smart retail; and public welfare services including "The Gas Station That Cares -- A Better Road Home", "Drivers' Home" and "Love Station".
New image of Sinopec's integrated energy station